ALEXANDER DOBROVODSKY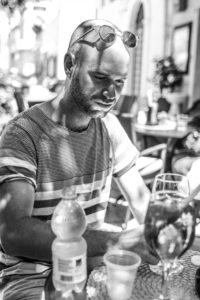 Born in a Slovak-Russian-Italian family, Bratislava, 1981. Grew up in Prague.
Started with photography as a teenager, and was captivated by the art of the medium, which set his direction forever. After finishing secondary school in Prague, went to study in the USA. In 1999, worked on a portfolio which won him a full scholarship to study photography at the Art Institute of Pittsburgh (AIP).
After his American sojourn, returned to Europe to start a career as a professional photographer. Spent 2005 in Amsterdam, developing deeper personal photography language, influenced by dutch ligth. Returns to Prague working full time on projects mostly focused on lifestyle, sport, portrait, automotive and architectural themes. Since 2007, shooting for global agencies and magazines.
CLIENTS – Coca Cola, Nike, Samsung, T-mobile, Amazon, Asahi, Movenpick, Volvo, Škoda Auto, Mc Donalds, Mc Cafe, Mercedes, Pilsner Urqell, LV, Reiffaisenbank, Ed Hardy, Prague Airport, Czech Olympic Team, Metaxa, Lasvit, Česká Spořitelna, XTND, Edit! architects, IO studio etc.
MAGAZINES – Esquire, Newsweek, FHM, Entertainment Weekly, Elle, Bazaar, Amsterdam Weekly, MOE (Japan), Architecture Digest etc.
Contact e-mail address: sasadob@gmail.com GSM +420 732 764 708