ALEXANDER DOBROVODSKY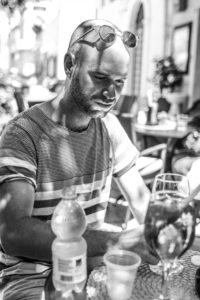 Born in a Slovak-Russian-Italian family, Bratislava, 1981. Grew up in Prague.
Started with photography as a teenager, and was captivated by the art of the medium, which set his direction forever. After finishing secondary school in Prague, went to study in the USA. In 1999, worked on a portfolio which won him a full scholarship to study photography at the Art Institute of Pittsburgh (AIP). There, he won First Prize in Photography in an AIP student competition, First Prize in the EdFund student photography competition (with contestants from across the USA), and Second Prize in a Manchester Craftsmen's Guild contest.
After his American sojourn, returned to Europe to start a career as a professional photographer. Since 2000, shooting for magazines and agencies based mostly in Europe. In 2002, won First Prize in the most prestigious Czech photography contest, Czech Press Photo, in the Portrait category, and Second Prize in the Art category. Since that time, has not entered photography competitions. Spent 2005 in Amsterdam, photographing for the award-winning Amsterdam Weekly. Since 2006, back in Prague shooting for FHM, Esquire, Elle, Marie Claire,  F1 Racing, MOE (Japan), Release (Netherlands), and many others.
Contact e-mail address: sasadob@gmail.com
GET IN TOUCH